0

Comments
Published by Cornelius on Monday, March 27, 2006 at 5:26 PM.
I realy like your concept of 'nesting' over and onto existing structures. I just found this new landmark building going up in Hamburg. An interesting approach of litterally building on the old; I like how it seems to grow out of the existing warehouse but still presents itself as a seperate entity seemlingly floating over it.
Very unlike the Auckland Imax which failed horribly trying to do this.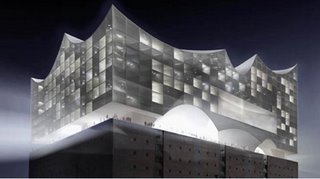 "The historic warehouse building is set to become Hamburg's new cultural landmark
A tent-like superstructure, sheathed in glass, will house two concert auditoriums, apartments and a hotel with a wellness centre."
Hafencity Hamburg
, via Core77