0

Comments
Published by Cornelius on Monday, March 13, 2006 at 10:36 PM.
Here is a facinating aviation concept I mentioned earlier. Although, it is probably not quite within the scope of our current project; but relevent from a New Zealand <> Rest-of-World perspective.
"Frank Heyl's project 'Aeolus' is a second-generation supersonic airliner with an Oblique Flying Wing configuration that enables it to sweep the entire wing to reduce drag to one tenth of that of a delta wing. The interchangeable cabins will improve the turnaround time: While the arriving cabins are being unloaded from the aircraft the departing ones are already waiting, fully boarded. From the reduced flight time through optimised turnaround and 'supersonic over dry land capabilities' to the savings in fuel and operation cost Aeolus represents a true revolution in civil aviation."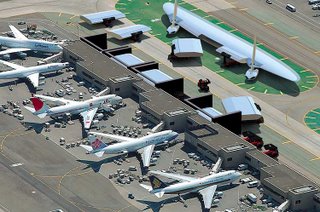 Via
Car design news
&
Via Spiegel
(warning: german overload)