0

Comments
Published by Nikolai H on Thursday, January 26, 2006 at 12:01 PM.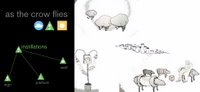 http://people.artcenter.edu/~vanallen/ecology/ALAV.pdf
This is excellent: taking eco-systems and biological mimicry, and applying it to a human environment. The principal here is exactly where we should be looking, if not in the application itself. Imagine a form of transit where you dialled a ride out of the ether, and knew there was always some element of chaos impeding the likelihood of actually arriving at your destination, while all the time knowing that your journey was in fact at the mercy of everyone else's movements.... I can't quite work out a practical angle here, but it is immensly appealing.
Oh, and I have a blimp fetish too.