1

Comments
Published by Cornelius on Sunday, January 22, 2006 at 12:14 AM.
Cheers Niclause for posting the inital writeup. I took the liberty of doing some visual beautification (which is in fact purely form follows function), and make it somewhat easier to the eye.
To get us going once more for the comming year, one small contribution.
Reading through the NZH today, I came accross a follow-up article to something I had spotted last year. (and have to say was quite exited about) It was about the 'Tank farm' development propsal thats seems to be gaining some momentum. I have been intrigued by this plot of land for a while, and was contemplating what would / could become of it.
I had no idea they had already come to a 'concept proposal' stage, and zapped myself over to the website to check it out.
> http://www.tankfarm.co.nz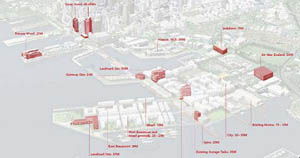 My inital reaction to the NZH story was a little sceptical, considering how current AKL developments are stacking up. But my first impression after looking through the site are a lot better.
- The 'Reflection Ponds'. + in eco-credits and it could look quite cool.
- Park on norther tip. Would be a shame plonking a poorly executed building here. (which sadly, most new AKL sctructures at the moment are)
- The 'offset warf' on the eastern side could be quite effective I think.
whats not so hot:
- Does not seem to be very much 'creative space'. Be it public art and performance areas.
- The whole thing could just as easely turn into a property development/retail frenzy, rather than an auckland urban-design & enhancement opportunity.
- Will the 'spine' just be a bunch of up market watering holes in the likes of the Viaduct?
Will be interesting to see where this goes.